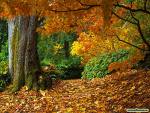 What is Autumn?

Autumn (also known as fall in North American English) is one of the four temperate seasons.

Autumn marks the transition from summer into winter.

In the northern hemisphere, the start of autumn is generally considered to be around September, and in the southern hemisphere, its beginning is considered to be around March. There exist, however, different definitions of autumn, some of which are based on the months of the year while others are based on the equinox and solstice.

During autumn, deciduous trees shed their leaves. Leaves change to a yellowish, reddish or brownish hue before falling. Such coloured leaves have come to be colloquially called "fall foliage" in North America.

In temperate zones, autumn is the season during which most crops are harvested. It is also the season during which days get shorter and cooler and the nights get longer.
Start cooking warming dishes like

Preserving Autumn Leaves
Do you have a tree in your street that is dropping pretty autumn leaves?

Autumn lesson plans and resources for teachers