Play Market Memory - Match the
fresh fruit and vegetables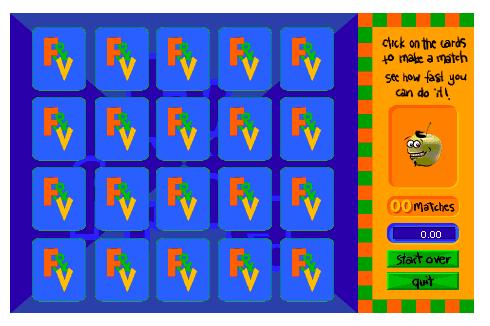 ---
Can your Kitchen Pass the Food Safety Test?
What comes to mind when you think of a clean kitchen? Shiny waxed floors? Gleaming stainless steel sinks? Spotless counters and neatly arranged cupboards?
They can help, but a truly "clean" kitchen--that is, one that ensures safe food--relies on more than just looks: It also depends on safe food practices.
In the home, food safety concerns revolve around three main functions: food storage, food handling, and cooking. To see how well you're doing in each, take this quiz, and then read on to learn how you can make the meals and snacks from your kitchen the safest possible.
Keep Your Child's Sugar Intake to a Mimimum
Obviously, it's going to be hard to cut out high-glycemic sugars altogether, but there are a couple of easy steps you can take to dramatically reduce your child's sugar intake:
Lemon trees laden with their winter crop, boughs drooping under the weight of many hued lemons: dark green, lighter green becoming suffused with yellow, vibrant yellow bursting with life, then as they go unpicked and overripe a flush of orange seeps into the knobbly fruit. Until I came to South Africa lemons came from a shop: smooth, uniform yellow skins all year round. Now I have learned to
appreciate their seasonal bounty, struggling to use up all the fruit in winter, hoarding away the squeezed juice of the excess lemons in the freezer for summer, when the lemons must come from the shop again and are more expensive and less juicy.

This is the time to think up a hundred and one ways to use a lemon
Exploring the Food Group: Grains and starches
Besides the wonderful aromas, flavors, and textures that food has, each food group provides varying amounts of diverse nutrients. Each one of the five food groups supplies some, but not all, of the nutrients you need for good health. For this reason, it's key that you eat from each food group every day.
Bread, Cereal, Rice, and Pasta Group
The base of the Food Guide Pyramid includes all foods made from grains. These foods should form the base of a nutritious diet. Foods in the bread, cereal, rice, and pasta group--or the starch group--are rich in complex carbohydrates (or starches). Complex carbohydrates are an excellent source of energy. They are low in fat and cholesterol and are your body's main source of energy.
What is 7-a-day?

For many years, we've been reminded of the importance of fruit and vegetables in our diet. Significantly, an estimated 35% of cancer related deaths may be prevented by eating better. A balanced diet, which includes at least seven serves of fruit and vegetables a day, may help reduce the incidence of certain types of cancer and heart disease.
Lunch Box Basics
Lunch boxes and lunch menus are a private obsession of mine. I can spend hours pouring over lunch box descriptions, thermos manuals and sandwich cookbooks. With so many of my brain cells invested in lunch box knowledge, this article is a personal favorite. Read on ...