Kit Kittredge - An American Girl

--- The Movie ---
Kit Kittredge: An American Girl
opens in limited theaters on June 20th and wide on July 2nd.
In the first feature film based on the hugely popular American Girl book series, Oscar nominee Abigail Breslin stars as a resourceful young girl whose bravery, compassion and determination help her solve a mystery that saves her family's home during the Great Depression.
Kit Kittredge: An American Girl is directed by Patricia Rozema from a screenplay by Ann Peacock. The film's all-star ensemble cast includes two-time Oscar nominee Joan Cusack, Glenne Headly, Tony Award winner and Golden Globe nominee Jane Krakowski, Golden Globe nominee Chris O'Donnell, Julia Ormond, Wallace Shawn and two-time Golden Globe winner Stanley Tucci.
Aspiring reporter Kit Kittredge can't resist bringing home strays, whether it's Grace, an abandoned basset hound, or Will and Countee, a pair of young hobos willing to trade work for meals. Bright, inquisitive and generous, Kit is a natural born leader. But her happy childhood is abruptly interrupted when her father (Chris O'Donnell) loses his car dealership and must leave Cincinnati to look for work. When a crime spree sweeps Cincinnati, all signs point to the local "hobo jungle," where Will and Countee live with a group of their impoverished companions.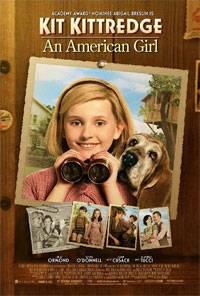 --- The Kit Kittredge Competition ---
Enter the Competition to win a Kit Kittredge prize pack consisting of a bookmark, poster, soundtrack, book and mini-photo wallet. Must be 13 years or older to enter.
1 winner(s) will win! This contest/giveaway ends Jul 8.
>>> Enter here
--- And ... the books ---
From the reviews
'Welcome to Kit's World 1934' is a visual delight and gives a human touch to the dramatic events of the Depression years.