---
FREE NEWSLETTER
---
Get news of the latest games, book reviews, articles and more that have been added to the website.

(We do not share, give or sell email addresses)
---
FREE RESOURCES
in an ezine
Are you a member of Pivotal Gold?
Pivotal Kids Book
The Big Splash
| | |
| --- | --- |
| | by Jack D. Ferraiolo |
Ages: 9-11
Review
Welcome to Franklin Middle School, where a junior gang of petty thieves and mobsters shakes kids down and humiliates them with water guns. Seventh-grader Matt Stevens, the class detective, is hired by fellow middle-schooler Vinny Biggs (something of a pint-sized Godfather) to recover a lost trinket from Nikki "Fingers," one of the fastest shots in school. Nikki has decided to go straight because her younger sister has entered the school. This knock-off noir kicks in when Nikki, about to hand over the charm to Matt, is "taken out" - soaked in a place to make it look like she's had an accident. This humiliation, a highly visible and common practice, immediately turns victims into social outcasts. Matt's detective instincts tell him that Vinny may have set him up, and he sets out to learn who was really behind this act. Matt Stevens may turn out to be a bankable franchise: His first-person present-tense narration carries in it echoes of Marlowe, and the simple plot makes some crafty twists and turns as it goes along. (Kirkus Reviews)

Product Description
Snappy, pulp-inspired noir set in the mean hallways of middle school, from an exciting debut author.
The treacherous, hormone-soaked hallways of Franklin Middle School are the setting for this sharp, funny noir novel about tough guys and even tougher girls. "The Frank" is in the clutches of a crime syndicate run by seventh-grader Vinny "Mr. Biggs" Biggio, who deals in forged hall passes and black-market candy. Double-cross him and your number is punched by one of his deadly water-gun-toting assassins. One hit in the pants and you are in "the Outs" forever. Matt Stevens is a proud loner with his own code of justice. He's avoided being pulled into Vinny's organization until now: Mr. Biggs has offered him a job he can't resist, one that leads to the surprising downfall of Vinny's top assassin, the beautiful and deadly Nikki "Fingers" Finnegan, at the hands of an unknown assailant. Matt thinks he was used, and he becomes determined to find the trigger-guy or -girl, even if it means bringing down one of his oldest friends.
New talent Jack D. Ferraiolo revitalizes the noir novel while delivering a terrific, addictive mystery that crackles with wit and excitement.
---
--- Read an interview with Jack Ferraiolo here
--- Get a free water gun here - while stocks last
---

Indian in the Cupboard Study Guide

Omri receives several conventional gifts for his ninth birthday, including a
longed-for skateboard. However, two gifts you would expect to be of least
interest to a young boy prove to be magical and exciting. Suitable for
primary aged students this study guide has learning outcomes in key learning
areas such as English, Art and Society and Environment.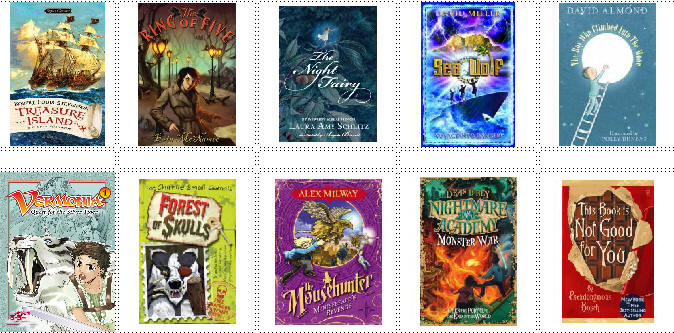 Help your child make a book
about Grandpa (or another older friend or relative). When it's finished it will make a great gift to give to Grandpa.